Moist

Granulation
Alexanderwerk, Inc. has served a variety of industries with innovative technology for over 130 years. Our headquarters are in Remscheid, Germany, and we also have a Montgomeryville, PA facility to serve the North and South American markets. Our 17,000 square foot facility in the USA lets us deliver a wide variety of services, including granulation.
Not all raw materials can be processed in the dry state. For such cases Alexanderwerk offers its customers an alternative solution: our moist granulator series able to handle both moist and pasty materials through the use of two counter-rotating cylinders. Extruded granules often have a lower density and a higher porosity, and therefore are more rapidly soluble.
The Moist Granulation Process
Moist granulation is the process of adding a granulating fluid, such as water or ethanol, etc. to dry powdered materials to create a mixture that is then forced into a granulating extrusion cylinder where the material is compacted and cut off by a scraper to form larger size granules. These liquids mixed in with powders result in a bond that is strong and will not easily fall apart when dry.
The moist extrusion granulation process includes the following steps:
The active ingredient, excipients, and disintegrating agent are mixed until uniform.
A granulation agent in the form of a binder or adhesive is added to the mixture in a process called wet massing. The agent may be introduced as a slurry, solution, or dry powder, and it fills in the spaces between the mixture.
A sieve, known as a wet screen, granulates the mixture by ways of extrusion, keeping the granules consolidated and increasing the surface area of the granules.
The granulated mixture is dried, but some humidity remains to keep the granules from breaking.
A second sieving or dry screening process homogenizes the product into a uniform size and shape.
Moist granulation boasts significant advantages. The process eliminates certain deficiencies in the powdered product, including reducing the entrapment of air by filling in spaces. Compressing the granules requires less pressure to achieve compression, relieving stress put on the granulator.
This process allows single-dose products to have a uniform distribution of active ingredients and excipients, with no need for special excipients. The wet granulation process also keeps employees safe by reducing dust and cross-contamination.
Moist granulation is used in a variety of industries, including pharmaceutical, chemical, food, and nutraceutical, to improve finished products. The process ensures more uniform products and helps the products remain shelf-stable in dry and moist environments.
Equipment & Services
Alexanderwerk Inc. offers the MG Series, a moist granulator designed to meet the requirements and standards in the pharmaceutical and chemical industry, made for the production of granules of defined diameters from moist or pasty substances.
Granulating cylinder bores are available to deliver granule size ranging from 1.0 mm to 10.0 mm. The counter-rotating pressure cylinder is knurled (profiled) to enhance feed characteristics. The MG GA65 Series is available in a mobile design providing great flexibility during granulation. All units quickly disassemble for easy cleaning and maintenance.
We offer the following equipment:
GA 65: This is an attachable unit for operation on a universal drive motor of the UM Series and can be configured as a grater/shredder, a rotor fine granulator, or a mixer. It has a throughput of up to 100 kg/hr with a 1 mm to 5 mm granule diameter.
G 1/100: This equipment has a throughput of up to 500 kg/hr and has a granule diameter of 1 mm to 6 mm.
G 1/168: This equipment has a throughput of up to 1,000 kg/hr and has a granule diameter of 1.5 mm to 8 mm.
G1/244: This equipment has a throughput of up to 2,000 kg/hr and has a granule diameter of 2 mm to 10mm.
A variety of special or customized designs are available upon request. The actual design of the machines may vary slightly from the machines shown here depending on our customer's design requirements or due to technical changes or improvements.
Improve Your Production with Innovative Solutions From Alexanderwerk
Moist granulation improves pharmaceutical and chemical products by turning powdered ingredients into homogenous and better flowing granules. Moist granulated products are easily soluble, have a lower density than dry granules, and have a uniform smooth shape and size. At Alexanderwerk, we offer moist granulators in a variety of sizes for granules from 1 mm to 10 mm and with throughputs as high as 2,000 kg/hr. Our products are easy to disassemble, allowing for simple maintenance and cleaning.
At Alexanderwerk, we deliver a full range of support to our customers. If you need an off-the-shelf solution or a custom product designed to meet your exact specifications, our subject matter specialists are here for you to collaborate on finding a solution for you. For more information about our products and services, contact us to speak with our specialists or fill out our simple online form to request information.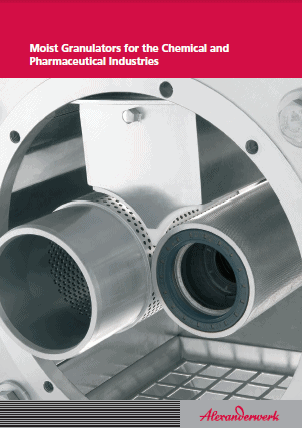 Machine
GA 65
G1/ 100
G1/ 168
G1/ 244
Granule Diameter [mm]
1-5
1-6
1.5-8
2-10
Throughput, Continuous Operation [kg/h]
up to 100
up to 500
up to 1000
up to 2000