Equipment for

Grating & Shredding
Grating and shredding of raw material is often a necessary process to prepare for further downstream processing steps. In order to meet these particle size limitations, Alexanderwerk Inc. offers the grater / shredder line of machines for production of a defined particle size and shape. They are suitable for both dry and moist materials. All Alexanderwerk Inc. grating and shredding machines are available in both a stationary or portable design.
The PGS Series has been developed to meet the requirements and standards in the pharmaceutical, chemical and primary industry. It is made for grating, shredding, crushing, and deaglomerating, of solid, dry or slightly moist substances.
The UM universal drive motor has an integrated quick release coupling via which a variety of slip-on attachments can be mounted. Such attachments may include the rotor fine granulator RFG 150 DA or the grater/ shredder PGS 165 A.
Depending on the raw material and grating or shredding cylinder, the throughput can be as high as 10,000 kg/h. Grating and shredding cylinders with bores are available to achieve different granule geometries. The mobile design provides great flexibility during granulation and allows an easy maintenance.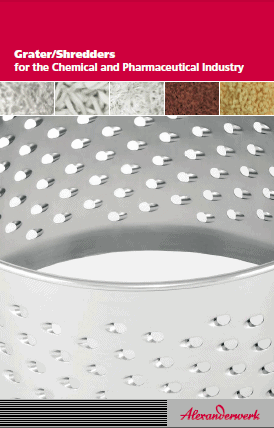 | PGS Type | 165 A | 165 | 300 | 300 T | 340 |
| --- | --- | --- | --- | --- | --- |
| Throughput, Continuous Operation (kg/h) | 1,000 | 1,000 | 1,000 | 1,000 | 10,000 |
| Diameter Work Cylinder (mm) | 165 | 165 | 165 | 165 | 340 |
| Height Work Cylinder (mm) | 105 | 105 | 105 | 105 | 240 |
| Bores Grating Cylinder (mm) | 1.0 - 6.0 | 1.0 - 6.0 | 1.0 - 6.0 | 1.0 - 6.0 | 1.5 - 8.0 |
| Bores Shredding Cylinder (mm) | 2.2 - 12.0 | 2.2 - 12.0 | 2.2 - 12.0 | 2.2 - 12.0 | 3.0 - 12.0 |
| Approx. Weight (kg) | 80 | 50 | 220 | 220 | 400 |
| Approx. Dimensions (mm) | 1,100 x 900 x 1,250 | 500 x 400 x 900 | 1,250 x 600 x 650 | 1,250 x 600 x 650 | 1,650 x 800 x 650 |