Roller Compaction Products for the Pharmaceutical Industry
At Alexanderwerk, innovation and inquisitiveness are at the core of everything we do. For over 130 years, these two qualities have guided us in our quest to remain competitive in industrial markets where requirements and restrictions are continuously changing. 
For customers in the pharmaceutical industry, one of our core product offerings is the WP Pharma roller compaction series. This product line is designed to provide effective dry granulation and compaction for pharmaceutical product manufacturing operations. 
Dry granulation refers to the formation of larger particles—known as granulates or granules—from dry powder and other solid materials without the use of liquid binders. Compaction is one method of producing granulates that uses pressure to minimize the space between individual particles. Both processes are essential to the production of pharmaceutical products such as pills, capsules, and tablets. 
An Overview of the Roller Compaction Process
As indicated above, there are several different granulation methods available. The two most common for dry granulation operations are slugging and roller compaction. 
Slugging is a compaction process that uses a tablet press. The pharmaceutical products produced through this method often are varied in weight and density, resulting in lower product and production quality.
Roller compaction is a compaction process that employs the use of three key components:
The feeding system:

 carries the raw material from the mouth of the machine to the compacting unit

The compaction unit:

uses two counter-rotating rolls to compact the material

The size reduction unit:

 mills the compacted material to the desired particle size
Altogether, these components allow for the production of more precise and accurate pharmaceutical products. 
The above qualities are among some of the reasons why most pharmaceutical companies employ roller compaction for their production operations. Some examples of pharmaceutical materials for which this method is often used include inactive compounds (e.g., fillers, preservatives, excipients and coloring agents), active ingredients, herbal extracts, and controlled release and immediate release drugs.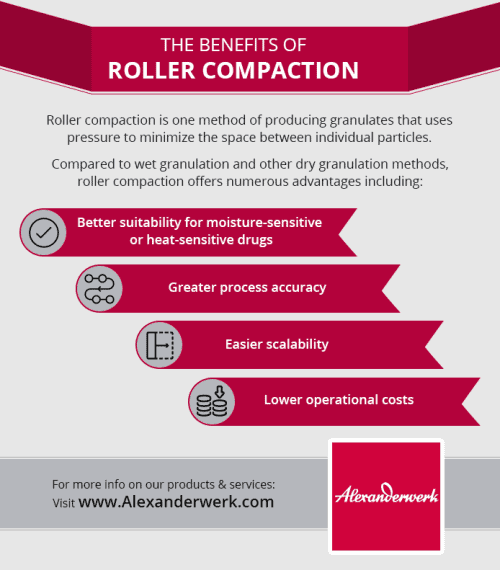 Benefits of Roller Compaction
Compared to wet granulation and other dry granulation methods, roller compaction offers numerous advantages that make it more suitable for use in pharmaceutical production applications, such as: 
Better suitability for moisture-sensitive or heat-sensitive drugs.

Dry granulation allows for material compaction and granulation without the addition of liquids, which is ideal for the manufacture of pharmaceutical products that are degraded by the presence of moisture. Since no liquids are added, there is no need for a drying stage, which is ideal for the processing of materials with low melting or thermal degradation points. 

Greater process accuracy.

Compared to slugging, roller compaction offers more consistent powder flow, which results in more consistent compaction results. 

Easier scalability.

For roller compaction

operations,

both pilot and commercial product batches can occur on the same machine, making it simple to expand production without additional machinery investment.

Lower operational costs.

Since the roller compaction process eliminates the need for material wetting and drying stages, operational costs are always lower than those of wet granulation operations.  
Pharmaceutical Roller Compaction Products by Alexanderwerk
WP Pharma roller compactors are designed to meet the highest requirements and standards of the pharmaceutical industry, for both production and research and development operations. They are available in either benchtop or standalone models.
Their modular design can be almost completely disassembled without the need for special tools, while their cantilever roll design allows for easy changeover and cleaning. The machine series also has a very low overall height to ensure a compact design. 
On the 120 series, the controls are fully integrated into the machine frame. On the larger 150 and 200 models, the control systems are separate. The 120 and 200 series are fully capable of meeting OEB 5 levels when equipped with an isolator and automatic WIP system.
All systems are available with automation solutions that can provide the users with full visualization of the process control system and batch reporting capabilities, commonly required by the pharmaceutical industry.
Contact the Compaction Experts at Alexanderwerk Today
Roller compactors are ideal for achieving better product and production quality in pharmaceutical manufacturing operations. For customers looking for quality roller compactors, Alexanderwerk is the perfect equipment partner. 
Armed with over a hundred years of industry experience and an over 17,000 square foot North American facility equipped and staffed to accommodate all testing, repair, sales, and servicing demands, our team has the knowledge, skills, and tools to meet all roller compaction needs. To learn more about our roller compaction products and services and how they benefit the pharmaceutical industry, contact us today.
Roller Compactors
Pharma Brochure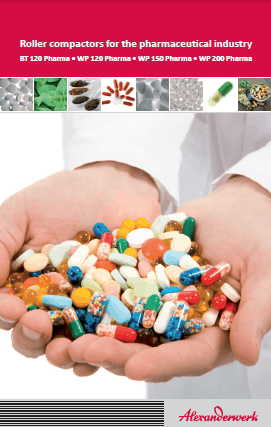 Machine
BT 120
WP 120 Pharma
WP 150 Pharma
WP 200 Pharma
Roller Diameter [mm / inch]
120 / 4.724
120 / 4.724
150 / 5.905
200 / 7.874
Roller Width [mm / inch]
25 / 0.984
25 / 0.984
40 / 1.575
50 / 1.969
75 / 2.953
Throughput, Continuous Operation [kg/h] (Lactose)
up to 8
up to 40
up to 150
up to 400
Maximum Press Force [kN/cm]
20
20
20
20
Maximum Roller Gap [mm]
4
4
5
5
Maximum Roller Speed [rpm]
15
15
40
38
Approx. Weight incl. Control System [kg / lbs.]
425 / 937
800 / 1,763.7
1,700 / 3,747.9
2,050 / 4,519.48
Approx. Dimensions [m] (w x d x h)
1 x 0.6 x 0.9
1.5 x 0.9 x 1.8
1.5 x 1.5 x 1.8
1.7 x 1.3 x 1.9
Approx. Dimensions [inch] (w x d x h)
39.4 x 35.3 x 23.6
59.1 x 35.4 x 70.9
59.1 x 35.4 x 70.9
66.9 x 51.2 x 74.8