Dry granulation is the process of forming particles—i.e., granulates or granules—from dry powder or powder blend without adding liquid to aid in the process. It serves as an established manufacturing process in the chemical, life science, and pharmaceutical industries, playing a key role in preparing powdered material for further processing.
The following article provides on overview of dry granulation, outlining what it is, its key advantages, and its typical applications.
What Is Dry Granulation?
Granulation is a mechanical process used to change the physical properties of a powder or powder blend. Flow characteristics, density, and particle size are the primary parameters influenced by this process.   Granulation processes are employed when the raw material powder or blend exhibits behavior properties that hinder other manufacturing processes.  Among these are poor flow ("bridging," "rat-holing," etc.) poor compressibility, component segregation, and inappropriate particle size to name a few.
In principle, two different processes for the production of granules can be used.
Wet granulation
Dry granulation
In so-called wet granulation, binders are added in liquid form to the powders. The binder, usually based on water or alcohol, acts as an adhesive, so that individual particles are connected to each other via the liquid bridges. This is often referred to as agglomeration.  Wet granulation may require a downstream drying process to reduce the moisture in the granules. Both the addition of binders and the drying process can have a negative impact on the quality of the granules and the active ingredients.
In dry granulation, granules of the desired quality (density, particle size distribution, porosity) are generated in a two-step process by compacting and a subsequent milling step.. The addition of binders with subsequent drying process is not required here
Roller compaction is a well-established manufacturing process accepted in multiple industries around the world It produces densified material by compressing powders between two counter-rotating rollers. The densified flakes or ribbons, are then milled via a downstream granulation unit into well-flowing and granules of a desired size. Among other things, Alexanderwerk roller presses are characterized by their particularly gentle two step granulation. The Alexanderwerk machine design for the compression process is unique, as the vertically aligned rollers, in conjunction with a special control logic, continuously produce flakes of consistent thickness and density, which is essential for a consistent granule quality.
Advantages of Dry Granulation
Compared to other material processing methods, dry granulation offers a number of advantages, such as:
Smaller Space Requirements
In material processing facilities, floor space is always at a premium. However, in comparison to wet granulation processes, dry granulation machines—especially roller compactors—generally take up much less space.
Broader Processing Versatility
The dry granulation process readily accommodates both batch and continuous operations. This flexibility makes it ideal for small-scale and large-scale material processing applications.
Greater Cost Efficiency
In material processing facilities, the key to maximizing profits is adopting more cost-effective processing techniques and technologies. Dry granulation serves as a lower-cost method of processing powder and powder blends. It does not require the use of a liquid binding agent, which eliminates the need for separate moisture addition and material drying stages. Compared to wet granulation, this distinction saves on material, labor, and energy costs.
Applications of Dry Granulation
Dry granulation operations are found in a wide range of industries, including the following:
The pharmaceutical industry. Within the pharmaceutical industry, the dry granulation process is primarily used to increase material flowability and prevent particle segregation, facilitating faster and more consistent feeding into the tableting process. By achieving and maintaining these conditions, pharmaceutical manufacturers are better able to produce pharmaceutical tablets and capsules with consistent weight, sufficient strength, and an even and predictable distribution of the active pharmaceutical ingredient (API).
The chemical industry. Similar to the pharmaceutical industry, the chemical industry often requires the physical properties of a powder to be improved. As such, employing dry compaction techniques and technologies can greatly facilitate their production. Typical applications are seen in battery mass production, fine chemicals, fertilizer and other agricultural products.  Common chemicals processes are silica and carbon black.
The food & beverage industry. The food and beverage industry relies on dry granulation for the production of tablets and pills (e.g., vitamins and supplements), as well as flavor extracts, instant blends, and other powder-based products.
Structure of a Roller Compactor
The basic structure of all Alexanderwerk roller compactors, in particular of our WP Pharma Series can be described as follows: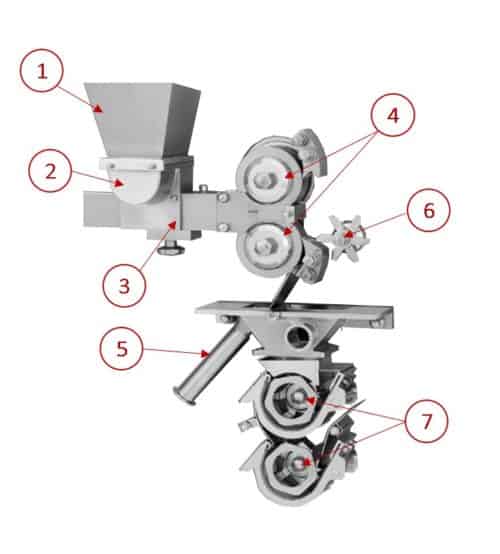 Hopper with stirrer for receiving the raw product
Patented Combi-Vent-Feeder System for Optimizing Blend Uniformity (BU)
Feeding unit with vacuum zone
Vertically arranged rollers for pressing the raw material
Separation possibility of uncompressed material
Flake Crusher for controlled pre-shredding of flakes
Integrated 2-stage granulating unit with 2 rotor fine granulators (RFGs)
Contact the Dry Granulation Experts at Alexanderwerk Today
Dry granulation plays a critical role in the manufacture of numerous products for various industries. If you want to learn more about the process or require material processing equipment for your facility, turn to the experts at Alexanderwerk.
At Alexanderwerk, we specialize in dry granulation technology.  We have the expertise and experience to design and build a roller compactor or entire dry granulation process train to meet your needs.. In addition to selling the equipment, we offer product testing and manufacturing trials in our state-of-the-art laboratory suites, maintenance, repair, and service capabilities to meet all of our customers' roller compactor needs. We maintain a multi-million dollar parts inventory to keep your equipment running and in good condition.  To find out more about the dry granulation process or our roller compaction products, contact us today.
Roller Compactors
Pharma Brochure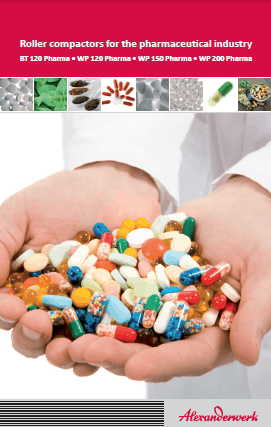 Machine
BT 120
WP 120 Pharma
WP 150 Pharma
WP 200 Pharma
Roller Diameter [mm / inch]
120 / 4.724
120 / 4.724
150 / 5.905
200 / 7.874
Roller Width [mm / inch]
25 / 0.984
25 / 0.984
40 / 1.575
50 / 1.969
75 / 2.953
Throughput, Continuous Operation [kg/h] (Lactose)
up to 8
up to 40
up to 150
up to 400
Maximum Press Force [kN/cm]
20
20
20
20
Maximum Roller Gap [mm]
4
4
5
5
Maximum Roller Speed [rpm]
15
15
40
38
Approx. Weight incl. Control System [kg / lbs.]
425 / 937
800 / 1,763.7
1,700 / 3,747.9
2,050 / 4,519.48
Approx. Dimensions [m] (w x d x h)
1 x 0.6 x 0.9
1.5 x 0.9 x 1.8
1.5 x 1.5 x 1.8
1.7 x 1.3 x 1.9
Approx. Dimensions [inch] (w x d x h)
39.4 x 35.3 x 23.6
59.1 x 35.4 x 70.9
59.1 x 35.4 x 70.9
66.9 x 51.2 x 74.8