Alexanderwerk is a leader in designing and engineering machinery for the pharmaceutical industry. Our research and testing facilities allow clients to evaluate our advanced machinery in a controlled testing environment. Our granulation testing equipment includes our WP200 Pharma Roller Compactor. The high-volume pharmaceutical roller compaction unit is available to test in our controlled environment or to rent for testing in the client's facility.
This blog post covers the WP200 Pharma Roller Compactor, including its advantages, characteristics, features, and functions.
The WP200 by Alexanderwerk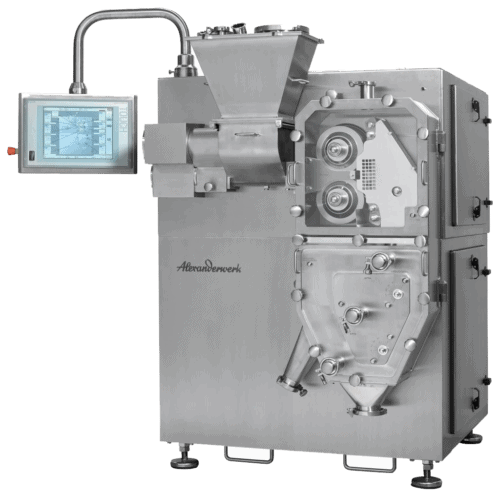 The WP200 Pharma Roller Compactor by Alexanderwerk is one of the larger production model roller compactors in our product line. It is suitable for processing high volumes of material continuously with high efficiency while complying with the pharmaceutical industry's highest standards and requirements.
The WP200 is also capable of processing small batches due to its ease of use during product changeover and cleaning in between batches. Other features of the WP200 include:
Throughput range: 10 to 500 kg/h Lactose
Roller diameter: 200mm
Roller width: 75mm
Roller gap: 5mm
Maximum press force: 20 kN/cm
Maximum roller speed: 38 RPM
Compaction is ideal for processing herbal extracts, active and inactive ingredients, and immediate or controlled release drugs. The pharmaceutical industry and CDMOs rely on roller compactors to manufacture pills, tablets, instant powders, flavors, capsules, nutraceuticals, and various life science products.
Functions & Features of the WP200
The WP200 Pharma Roller Compactor offers a range of functions and features. Alexanderwerk's Combi-Vent Feeder® uses our patented screw feeding technology to deliver a more consistent material feeding to the roller by allowing air from compaction to escape during the compaction process. Our Diagonal-Design® two-stage granulation allows for increased screen capacity, doubling the throughput of the roller compactor and improving overall granulation quality.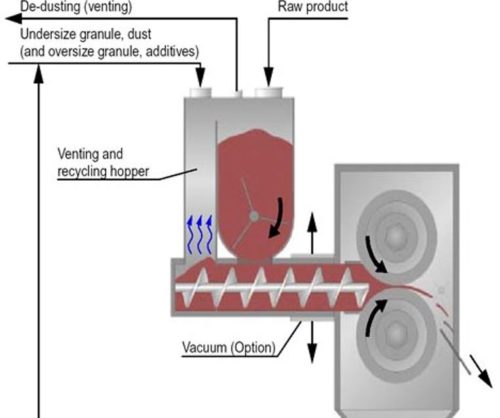 Combi Vent Feeder
The WP200 provides stable functionality and allows operators complete control during continuous processing tasks. The roller compactor's automatic feed control helps it adjust to physical changes in the material to provide consistent roller gap and compaction pressure. Operators have access to precision adjustment of the roller RPMs, compaction pressure, flake density, and throughput using the WP200's modern interface.
The WP200 Pharma Roller Compactor requires no special tools for complete disassembly of the unit and facilitates easy cleaning and changeover tasks with a cantilever roll design. The controls on the WP200 are separate from the machine frame, and the roller compactor includes an automatic wash-in-place system and isolator in compliance with level 5 OEB containment.
Alexanderwerk's WP200 Pharma Roller Compactor
The WP200 Pharma Roller Compactor from Alexanderwerk delivers processing of small batches with no-hassle changeovers or continuous runs of large volumes of materials, making it ideal for CDMOs and pharmaceutical companies. Alexanderwerk has partnered with various leaders in the pharmaceutical, food, life science, nuclear technology, and chemical processing industries to develop dry granulation and compaction solutions. Our experts are adept in taking products from development and design to a smooth installation with continuous support to the end-user.
Contact us to learn more about our granulation and compaction solutions for the pharmaceutical industry.