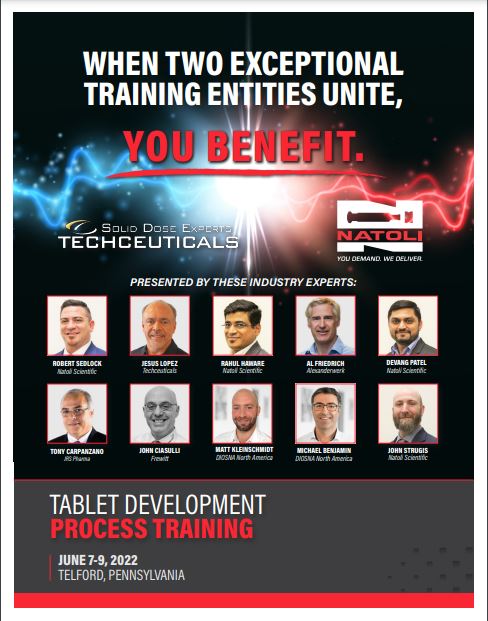 If you or your peers are in pharmaceutical, nutraceutical, CBD, or any other OSD related industry this is a great opportunity to learn about tableting. What is so great about our collaboration with this powerful training team is that experts as well as novices will be provided with powerful knowledge that can be put into action at home base right away. Your entire formulation, development, and manufacturing team can get on the same page. This type of training that incorporates fundamental theoretical knowledge and combining with practical hands on training in the lab is highly effective and might we say – fun! You get your questions answered on the spot and most importantly you get to network with other experts and people who are facing similar challenges as you.
Our Al Friedrich will be teaching the attendees about dry granulation using roller compaction. An Alexanderwerk WP120 Pharma will be featured in the lab for the live demonstration part.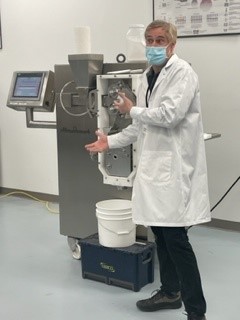 Do not lose time and sign up right away and you may even get the early bird discounted rate.
Here is the sign up link: https://tinyurl.com/yck2brdr
Here is the brochure: https://natoli.com/app/uploads/2021/06/TechceuticalsTrainingMarch29-312022.pdf
Participants of this training course will finish with an understanding of these concepts:
Tablet & tool designs
Micromeritics
Tablet compression with scale-up
Granulation (roller compaction, high shear, fluid bed)
Milling techniques
Excipient functionality & selection
Formulation development strategies
WHO SHOULD ATTEND?
Participants of this training course will finish with an understanding of these concepts:
Compounding Pharmacists
Technology Transfer Scientists
Process and Validation Engineers
Formulation Scientists
Research Associates
Manufacturing professionals
Quality & Regulatory